WD-01
Night: Monday, 6:30pm – 9:30 pm
8 weeks –
Fall: September 11, 2023 – November 6, 2023
Students learn operation, care, maintenance, and safety in voltage, amperage, and rod selection. Use of welding machine for beading, butt, flat, vertical, and overheard welding are covered in this course.
Price: $350.00
* Price includes material fee
Registration Keyword: WD-03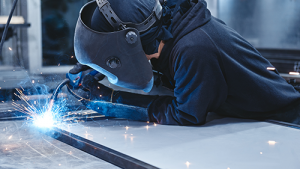 Mig-Tig Welding
Wednesdays or Thursdays
WD-03
Wednesdays, 6:30 pm – 9:30 pm
Fall: September 13, 2023 – November 8, 2023
or
8 weeks
Thursdays, 6:30 pm – 9:30 pm
Fall: September 14, 2023 – November 2, 2023
This is an introductory program involving the feeding of a consumable wire through a shielding gas and also tungsten inert gas welding.
Price: $350.00
* Price includes material fee
Registration Keyword: WD-03